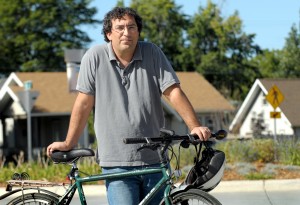 Bob Jaffe spent eight years on the Missoula City Council, and I thought he might have some withdrawals.
Not at all, he said.
I talked with him this week for a story about the sign in front of his office, Cedar Mountain Software.
Afterward, I asked him about life after council. He said he's really likes to keep up on the happenings without the pressure.
He reads the listserv and newspaper stories, and then, he goes about his life.
"It's nice to follow it from a much more passive perspective," Jaffe said.
I figured constituents might still be calling him, but that's not the case, either, he said. All in all, he has less stress on his life.
"My kids have even commented on how much more relaxed I am these days," Jaffe said.
Probably lucky for the sign smasher.
In other business, the Indy writes about dogs pooing in the cemetery; and Governing magazine has a chart on minimum wages in all states, with 2.1 percent of hourly workers in Montana at or below the federal limit.
— Keila Szpaller