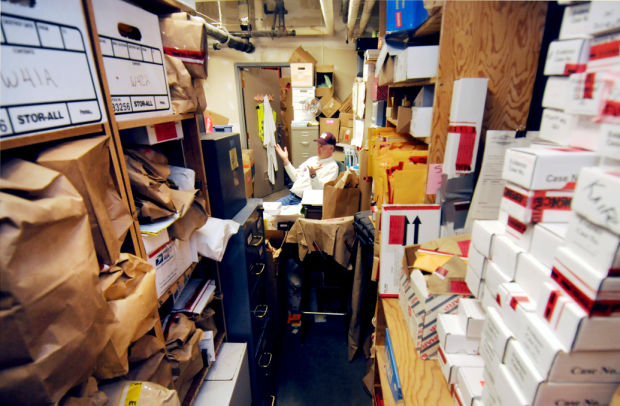 I just took another look at the trend in the city's park and road districts.
In an earlier story, I included the information that the road district had increased 121 percent in one year, according to city finance documents.
I think it's because of the sidewalk program the Missoula City Council adopted.
The piece I missed in the first look was that the road district went up 325 percent from FY12 to FY14. See page D-13.
There's a hearing tonight on a new district, a public safety and justice district, for police and fire. We'll see who turns up.
Police are stuffed in their offices, overstuffed. Photographer Michael Gallacher took the photo above.
In 2012, I wrote this story about the general fund ballooning nearly 30 percent since Mayor John Engen took office. It was based on this comparison, which I hope you'll be able to open if you want, but if you can't, I can email it to you: Budget comparison.
I haven't updated it, but I should do so sometime this spring. At the time, finance department head Brentt Ramharter confirmed the information and increase.
Engen wrote this response in October to our election question about the budget increases:
General fund expenditures during my tenure as mayor, from FY2007 to FY2012 grew by about 20 percent and largely reflect negotiated salary increases for union employees and other employees, the folks who make City operations work every day. Because I'm the primary author of those budgets, I stand by them. They reflect a balance between community interests and the desire for city services and meeting our statutory obligation to deliver a balanced budget. I've also delivered significant budget cuts during the depths of the recession, which included a reduction in the number of employees.
— Keila Szpaller