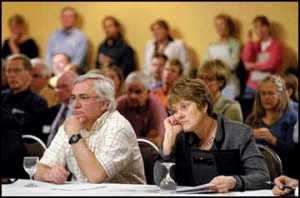 Here's the story I wrote about Commissioner Bill Carey's extended and unexplained absence. Come to find out, there's no limit on the amount of time a commissioner can be on paid leave.
I'd like to learn more about that topic. Is the same thing true for the Missoula County Attorney? Missoula County Sheriff?
A political scientist said if Missoula County had a charter, it could include guidelines for absences, recalls and removals. I'm wondering if the county has the authority to instate such policies outside the framework of a charter.
Here's Carey's letter to the editor about the reason he was gone. In the piece, he asks where the line is drawn for publicly elected officials on personal matters.
In a brief phone conversation today, Carey said the column speaks for itself.The piece doesn't address whether he sought treatment or if he has moderated his drinking or quit altogether.
"I don't have any comment on that, and I am busy now," Carey said.
In my story linked above, public affairs scholars talked about privacy. In brief, if someone wants to live a completely private life, maybe that person shouldn't be in public office.
Sometimes, I wonder whom elected people lean on for advice in difficult matters, and this situation is one of those times.
Say an elected official doesn't feel an obligation to constituents to announce a long leave. Does a trusted adviser encourage it?
All for now. Photo editor Kurt Wilson took the picture.
— Keila Szpaller