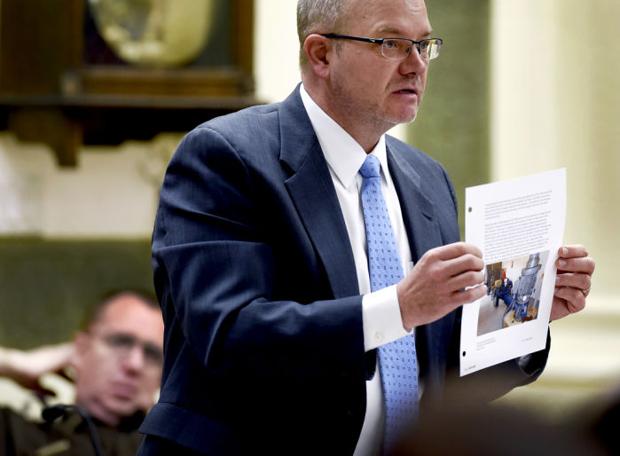 We're nearly halfway through the city of Missoula's condemnation case against Mountain Water Co. and owner The Carlyle Group.
It's as interesting as I thought it might be. The witnesses are providing fascinating details, and the lawyers are giving some engaging performances.
A couple themes have emerged in testimony so far. One thing I'm curious about is the relationship between Mayor John Engen and Robert Dove, managing director of infrastructure for Carlyle.
From all accounts to this point, it seems like Dove did intend to sell the water utility to the city of Missoula. Bruce Bender, chief administrative officer, remembered an evening with Dove, I think at Finn and Porter, where Dove put his arm around Engen and said, "Mayor, are you ready to buy a water company?"
So what happened? Did someone above Dove's head shut it down? Did they figure they could get more from someone else? Then why not counter?
Last March, Dove answered written questions from the Missoulian, and I just took another look at them. They didn't help me with my new questions, but I'm putting them here and follow ups here* anyway in case you want to take a look. (No answer to my question of whether the Carlyle crew had checked out Charlie B's.)
More questions? Yes. Have 'em.
Would Carlyle actually benefit if it loses to the city? (And is this the reason they didn't do well before trial? 'Cause they didn't need to?) Since Algonquin proposed to buy Western Water, the three companies, regardless of the outcome of the eminent domain proceeding, then wouldn't Carlyle be better off getting paid from both the city and Algonquin? Or does Algonquin then take Carlyle to court? Messy.
Alright, other themes from trial. So far, only the city's witnesses have testified. The picture they're painting is that the utility is in dire straits and desperate for repairs, but instead of putting money into fixes, the private owners are pocketing it.
Of course, when Mountain's own engineers take the stand, they may testify that the city cherry-picked photos of rotting pipes. They might say most of the pipes are actually alright, although I'm not sure how they will contest the high leakage rate.
Time is proving to be a focus in this trial, too. Judge Karen Townsend is keeping track of the minutes, and the lawyers are paying close attention. Here's an order that explains the reason.
Shoot, I want to say more here about the lawyers and, ahem, #condemnationwear, but I'll do that another time. Calling it a day, unlike all the attorneys and paralegals, who are probably working right now.
Good night.
– Keila Szpaller
P.S. The photo is of Joe Conner, taken by Missoulian photo editor Kurt Wilson.
*Updated with correct doc. Sorry!